Cantata in Blue, Red, Green, Yellow- the Vesicle
Acrylic Paint - Canvas Panels
52 x 32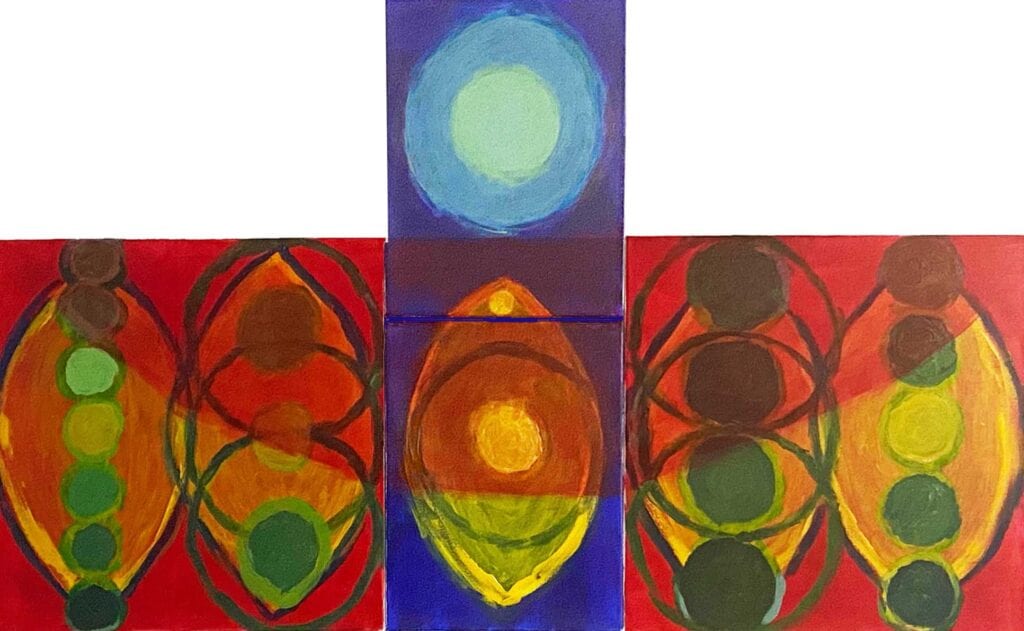 Cantata in Blue, Red, Green, Yellow- the Vesicle

Interested in purchasing "Cantata in Blue, Red, Green, Yellow- the Vesicle"? Contact the artist here.

There are many ideas jostling about in "Cantata in Blue, Red, Green, Yellow – the Vesicle."
 
First, how can precise geometry, perceived as something mechanistic, appear more organic?
Then, basic and ancient symbols crop up. Just as they recur throughout history, their simple recognition empowers and directs the image.
The circle and vesicle provide a theme and counterpoint to each other.
Both are pan-cultural with varying symbolic meanings. I chose to use them for their shape and as compositional devices. 

The vesicle figures large in both Indo-European art and extra-Indo-European art. The last part is multiple panels which has historical connections. Any cultural connections are on the beholder.

This is a celebration of color, shape, and primal geometry spread across four panels. The image reflects an ancient time even as it dances with new color. Formality gives way to exuberance. The multiple panels as they are arranged, invite the viewer to contemplate a larger image beyond the paneled arena. 

"Cantata" is a musical form that explores a narrative from various points of view. One could see the collections of circles framed by vesicles as "views".  Ultimately there is a summary statement like a chorale (in the case of Bach). The summary is the very bottom of a very large but imaginary circle.